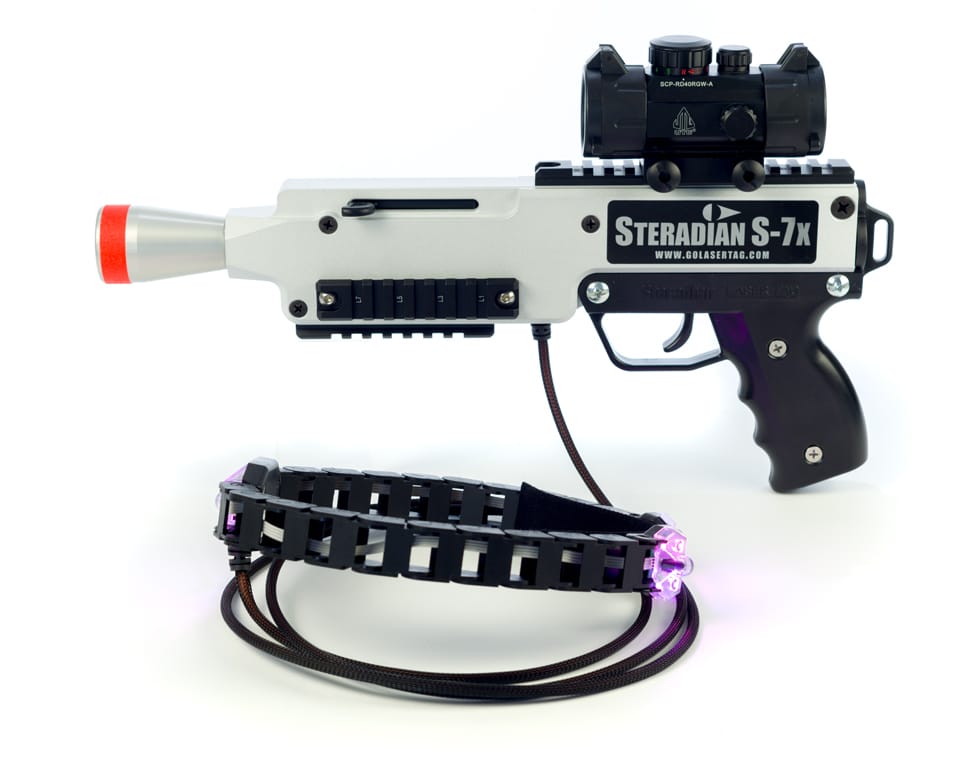 S-7 Laser Tag Gun
Precision machined aluminum laser tag gun
Pick from these options:
Compatible with: Classic Series Laser Tag System
Price: $649.00
The S-7 laser tag gun is precision machined from aluminum. Full expandable with stocks, scopes, and more! Featuring an advanced RF system for real-time scoring, easy game management, and the latest games. Features classic IR game management, traditional game types and basic scoring.
Compatible with the Classic Series.
Impressive performance
Made from aircraft grade aluminum, the S-7 laser tag gun design is appealing and durable. A careful blend of realistic and futuristic weapon design, the S-7 offers a non-threatening but exciting look. With its combination of great features, we've found that players love using the S-7.
S-7 Features
Extreme Flexibility
Loaded with 3 front accessory rails, a full length sight rail, and a stock mount, the S-7 laser tag gun offers extreme flexibility for adding a wide range of accessories.
Rumble Feedback
The S-7 laser tag gun includes a high-power vibrating motor. Every time you pull the trigger, the S-7 rumbles, adding to the player experience.
Durable
Each S-7 laser tag gun body is created from a block of high-grade aluminum. This creates an incredible strong body that will withstand years of abuse. However, the S-7 is lightweight, weighing in at only 2.5 pounds. The lenses are also made using the highest quality material. This allows them to survive the toughest conditions, while being able to focus your laser tag shot over long distances.
Long Range
One of the biggest advantages of Steradian equipment is the ability to consistently hit players at long ranges. With the S-7, you can hit other players from over 650 feet (200m) away, even in full sunlight. Our guns keep their long range, without losing the ability to consistently hit your target, separating Steradian equipment from other Laser Tag companies. Combine this with either the scope or red dot attachments, and players will hit precision shots from long distances easily.
Long Battery Life
A powerful battery keeps the S-7 running for up to 12 hours, so you can keep your guns in the game all day. Charging isn't a worry either, because our Smart Charger charges the battery the right amount each time.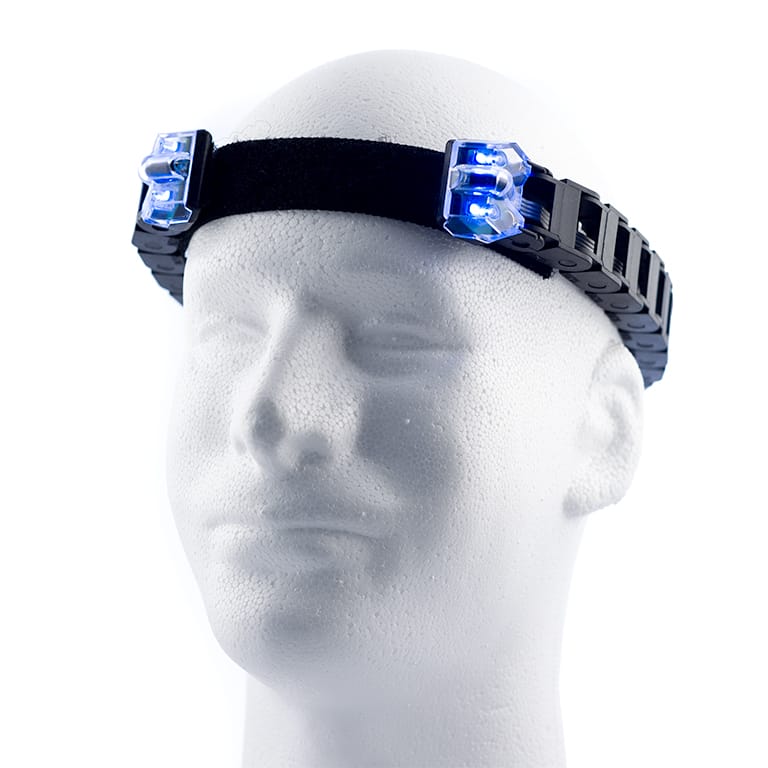 Sunband sensor
A good sensor is important for a player's game play experience. Many laser tag systems use vests that are bulky and hard to hit. Other systems only have a sensor inside the gun. This makes it easy for players to hide the gun behind their back so no one can hit them. At Steradian, we invented the Sunband sensor. Other companies have to tried to copy our Sunband sensor, and no one has succeeded. The Sunband sensor can detect a laser tag shot from very far distances in full sunlight while remaining lightweight and adjustable for any size head. Shown above is a Sunband with a Sunband cover. It is easily cleaned and great for players who aren't comfortable wearing bulky vests. Different color Sunband covers are available for easy team identification.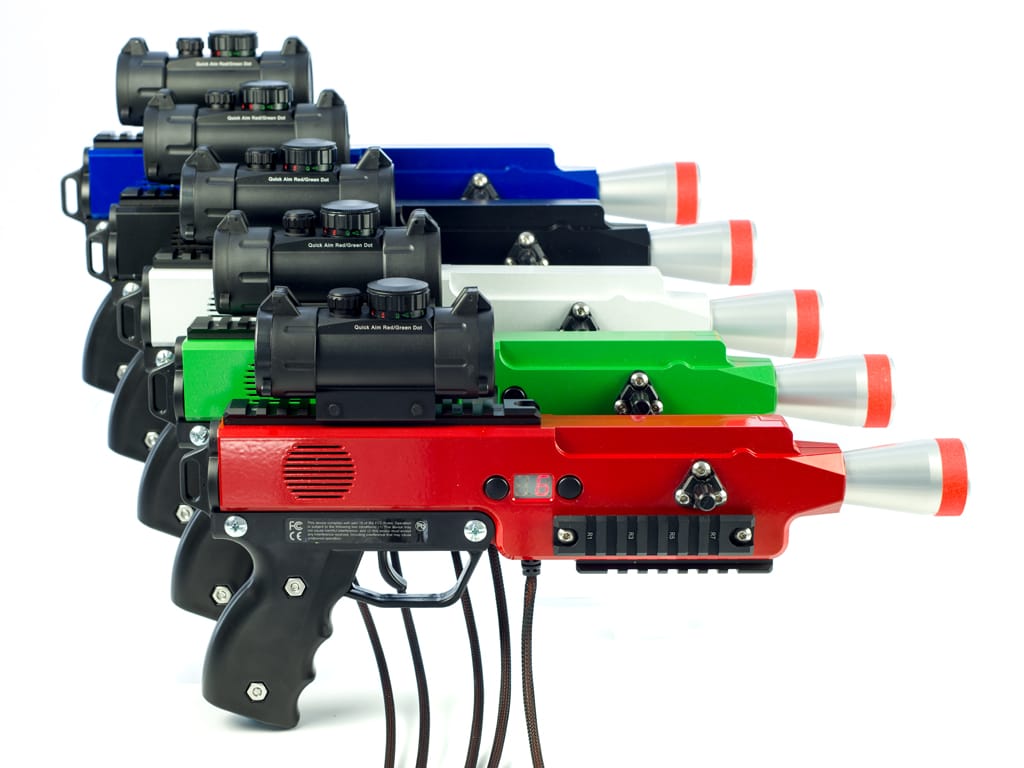 Select a Color
The S-7 comes comes with a durable powdercoat finish. Chose from 5 different colors!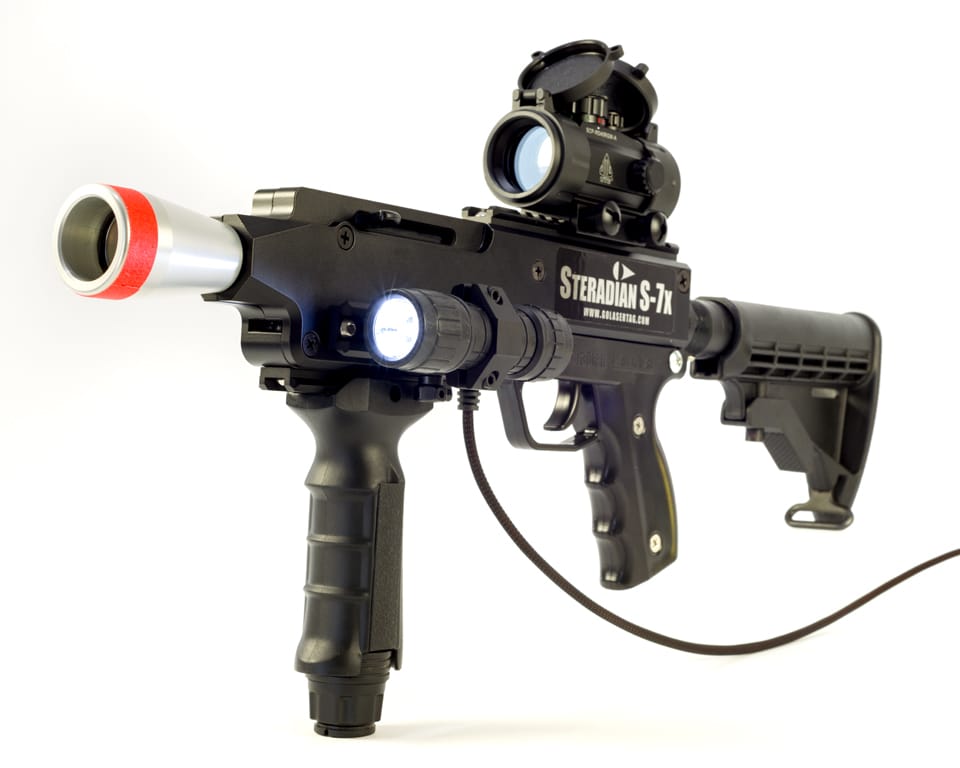 Modular Design
The S-7 is built as a modular laser tag gun platform. Mount a red dot sight on the sight rail for quick close quarters combat, or mount a sniper scope for long range action. Three accessory rails let you attach any standard gun accessories, from flashlights and front grips, to monopods and bipods. The stock mount lets you turn the S-7 into a long range laser tag gun with greater stability. Plus, it just looks cool!
Pick a system
Whether you buy the S-7X or S-7 laser tag gun, it is a great addition to your laser tag business. Head to our X-series page to learn about the features which make up our X-Series laser tag system, or head to our Classic Series page to learn more about the features which are common to the Classic Series laser tag system. Our side-by-side comparison chart highlights key differences between the systems.
S-7 accessories
The S-7 is compatible with a number of accessories.