Many games to play
Corn maze + laser tag = several different styles of games to play! Try hunting down targets on a scavenger hunt through the corn or an exciting team vs. team (combat) game? Want it a bit scarier…have a zombie hayride! Steradian Laser Tag offers several different corn maze games. Read on to learn about each game and pick how you want to play!
1. Go on a target hunt
Instead of shooting each other, players hunt through the corn maze looking for targets to shoot. The more targets they find, the higher their score! Players carry Eclipse 400X Lites, which are not fitted with external sensors, making them easier to hand out and collect.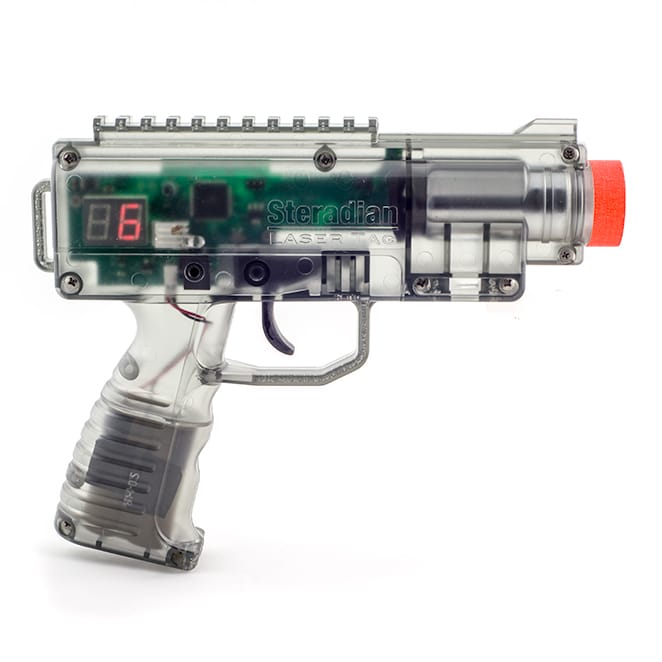 Run anywhere
Perfect for corn mazes, Steradian laser tag equipment works great outdoors with a long-lasting Li-Ion battery for all-day play! At the end of the day, just plug the laser tag guns into the included smart charger, charged back to full capacity in just a few hours. Unlike paintball or airsoft, laser tag leaves no residue or mess ensuring your visitors can have a fun, memorable experience.
2. Team vs. team (combat) game
In Combat Laser Tag, each player gets a laser tag gun and wears a headband sensor. The objective of the game is to shoot other players, trying to tag them out of the game and get points. You can also shoot targets for points and power-ups, shoot enemy bases for points, etc. Combat laser tag can be played directly in the corn maze, or you can set up a dedicated laser tag field outside of the maze.
Combat Package

$15,995

S-7X —

(10)

Precision machined aluminum laser tag gun with wireless scoring.

Eclipse 400X —

(10)

Family friendly laser tag gun with wireless scoring.

Chimera Target —

(5)

Power up your laser tag game!

Chimera Base —

(2)

Laser tag base for reviving players and other advanced game functions.

Chimera Hub —

(1)

Wireless hub for interfacing X-Series laser tag guns and computer.

Mobile Laser Tag Caddy —

(2)

Mobile storage and charging solution. Holds up to 12 guns.
Have questions?
Or ready to buy? For both, head over to the purchasing page!